Confectionery Solutions That Taste as Good as They Look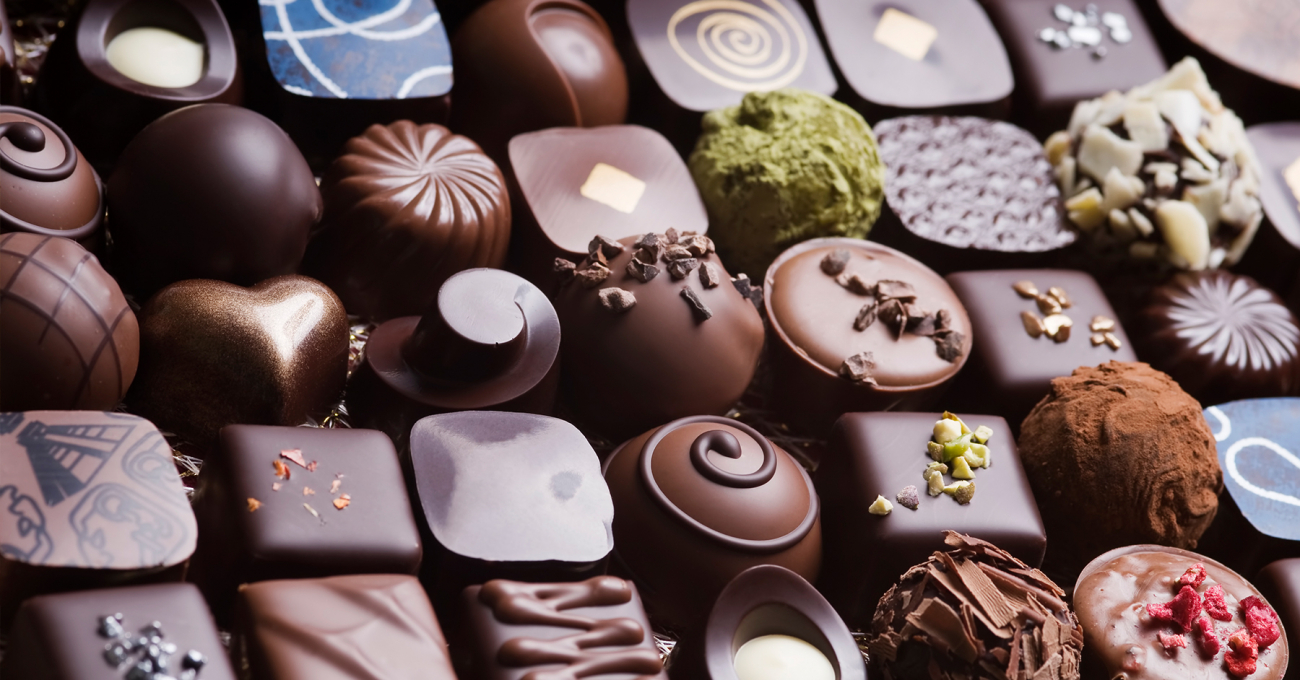 For successful confectionery products, you need to achieve confection perfection. How is that possible? With confectionery solutions that solve functional and production challenges, improve your confectionery product outcomes, and get you to market faster. The world of confections is full of delightful experiences, but it's also full of challenges, from undesirable bloom to filling separation and more.
At AAK, we make a variety of confectionery fats, including cocoa butter alternatives, fillings, spreads, and caramels that can extend shelf life and improve flavor release, taste, and sensory experience. With our co-development approach, we collaborate with you to create confections that suit your needs and specifications. Using our specialized confectionery fats and oils solutions and our legacy of confectionery and lipid chemistry expertise, we co-develop with you to create your next indulgent success.
Are you looking to make a soft and creamy filling, but still want excellent storage stability?
Would you like your confectionery product to have an extra boost of taste and texture, with on-trend inclusions?
Do you want to create special spreads for your consumers?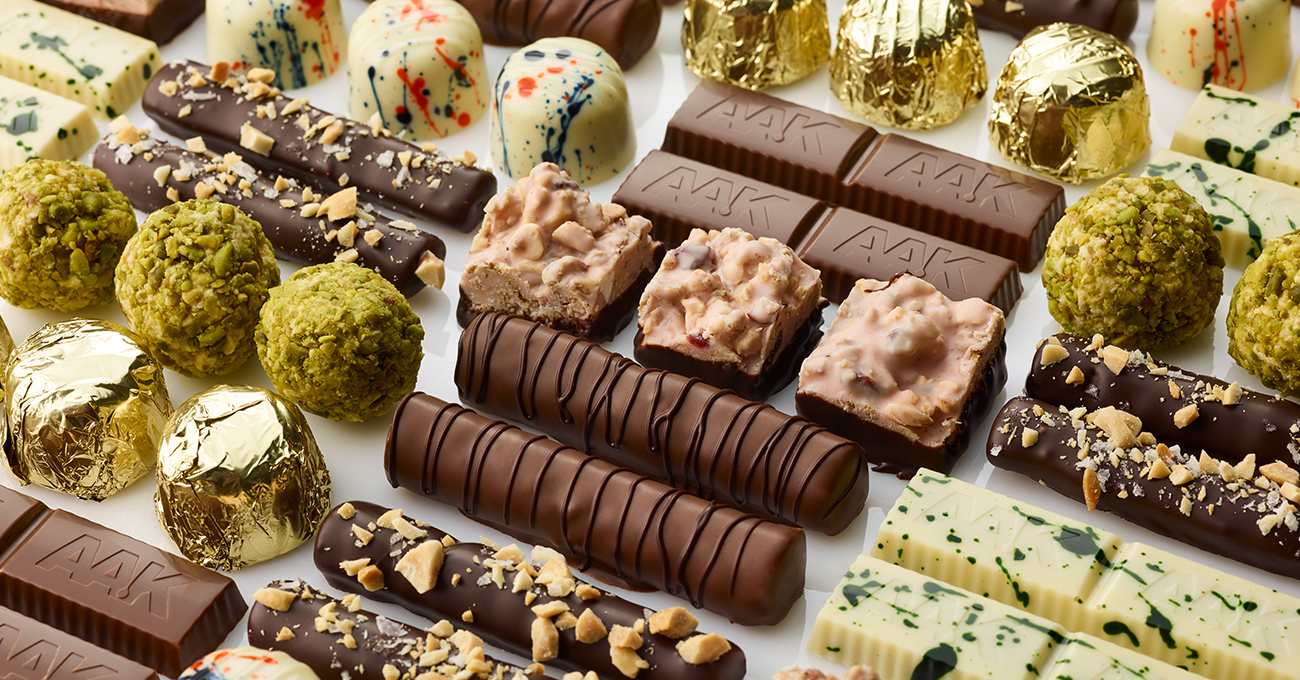 When It Comes to Indulging in Confections, Variety is the Spice of Life
"Looks indulgent."
The second most important purchase factor in chocolatey confections1
 When it comes to confections, it's all about eye candy. Appearance matters—and consumers are on the hunt for good-looking prospects. But of course, consumers are looking for variety when it comes to the perfect match, opting for different, more interesting flavors and inclusions, like s'mores, lemon, and sea salt.
88% of U.S. households consume chocolate confectionery1
24% are eating more chocolate compared to last year, while 56% are eating the same amount1
41% who've increased chocolate consumption in the past year attribute their increase to a better variety of flavors1

Bloom and Shelf Life
For chocolate and confectionery products, a long-lasting glossy appearance free of bloom is key to their appeal. Consumers expect foods to look good right to the end of their shelf life.
Fat bloom on chocolate—with its unappealing appearance and negative sensory effects—turn consumers away, an obvious concern for the confectionery industry. But did you know that most fat bloom is the migration of liquid fat, simply due to the difference in composition between fillings, cocoa butter and ingredients, such as nuts?
At AAK, we have a wide variety of confectionery fats and oils to solve the challenges of bloom and in turn, increase shelf life. You can choose from bloom-retarding filling fats for use in soft and creamy fillings or those for fillings with high nut content. What's more, we have the expertise to co-develop with you and help you choose the proper fat to significantly increase bloom stability while still delivering creamy mouthfeel or the proper snap, depending on your application.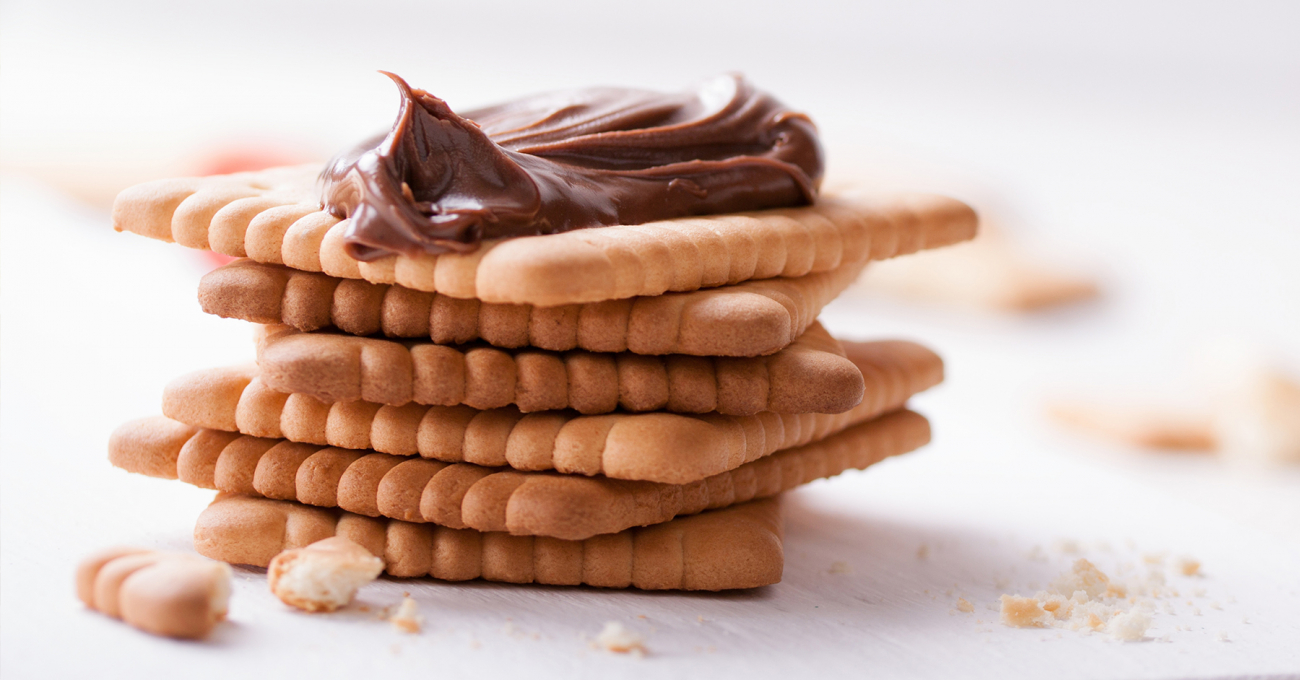 Because Spreads Can Give You Separation Anxiety
Whether made with creamy chocolate, indulgent hazelnut or any of the new flavors of nut butters sought-after for their nutritional benefits, spreads are continuing to grow in popularity. It's no surprise, especially because they are enjoyed at breakfast and for all-day snacks on bread, toast, pancakes and more.
But, creating a spread that is both smooth and spreadable can be a challenge, especially when it has a high nut content.
It is difficult to avoid oil separation issues, while maintaining spreadability at the same time. Consumers are looking for exciting new spreads that deliver delicious taste and texture. And, as with other confectionery and snack products, there is no room for a less-than-perfect appearance, because high visual appeal is a must.
One of the most important considerations when creating a high-quality spread is the choice of oils & fats, since they influence properties such as taste, consistency, structure and stability. We can solve your confectionery challenges, making sure that your spread is tasty and stable, regardless of the climate at your market. HINT: We understand the fatty acid composition and relationship of oil with the rest of your spread's ingredients. We can help you create spreads adapted to your consumers' preferences and with an appealing appearance to enhance all senses.

There's More to Coatings than Meets the Eye
But consumers do judge confections by their coatings! Coatings give shape to your final product and are the finishing touches that speak to consumers, giving your confections high-quality detail and glossy appeal, with no cracking. They also help provide the proper meltdown and flavor release.
Cocoa butter may be widely regarded as an essential ingredient in chocolate production, but the fact is that cocoa butter is not always the best choice. At AAK, we are experts in developing natural, efficient alternatives to cocoa butter that make life on your processing line a whole lot easier, while providing you with the desired result. Our vegetable fat solutions for chocolate and confections are designed to supplement, or even completely replace, the cocoa butter in your recipes. This means that you can tailor your chocolates according to your needs and market. Using one of our cocoa butter equivalent (CBE) solutions, you can give molded chocolates and coatings the right taste, mouthfeel and meltdown properties.
You can choose from high performance fats used for compound coatings, ice cream coatings, and coating fats with similar chemical and physical properties as cocoa butter.

Filling(s) in the Details: Creamy, Aerated, Crunchy, or Chewy?
Beyond simple gratification, confectionery fillings are responsible for your product's overall taste, imparting a smooth and creamy (or nutty and chewy) texture, appealing mouthfeel, and satisfying flavor release. Filling fats must deliver a delicious taste and an appealing texture with a steep meltdown, traditionally obtained by tempering.
We help you co-develop opportunities to add all kinds of innovative ingredients, for fillings containing crunch, fruit chunks, hot chili, or liqueurs—all designed to give your products a long, bloom-resistant shelf life. Whether your filling is soft, high in nuts, or likely to face fluctuating temperatures in storage, we can help you determine the proper filling fat solution from our portfolio.
The right AAK filling fat can also solve the challenges of using nuts, ensuring the perfect indulgent combination of taste, texture and appearance along with the healthier profile that consumers enjoy.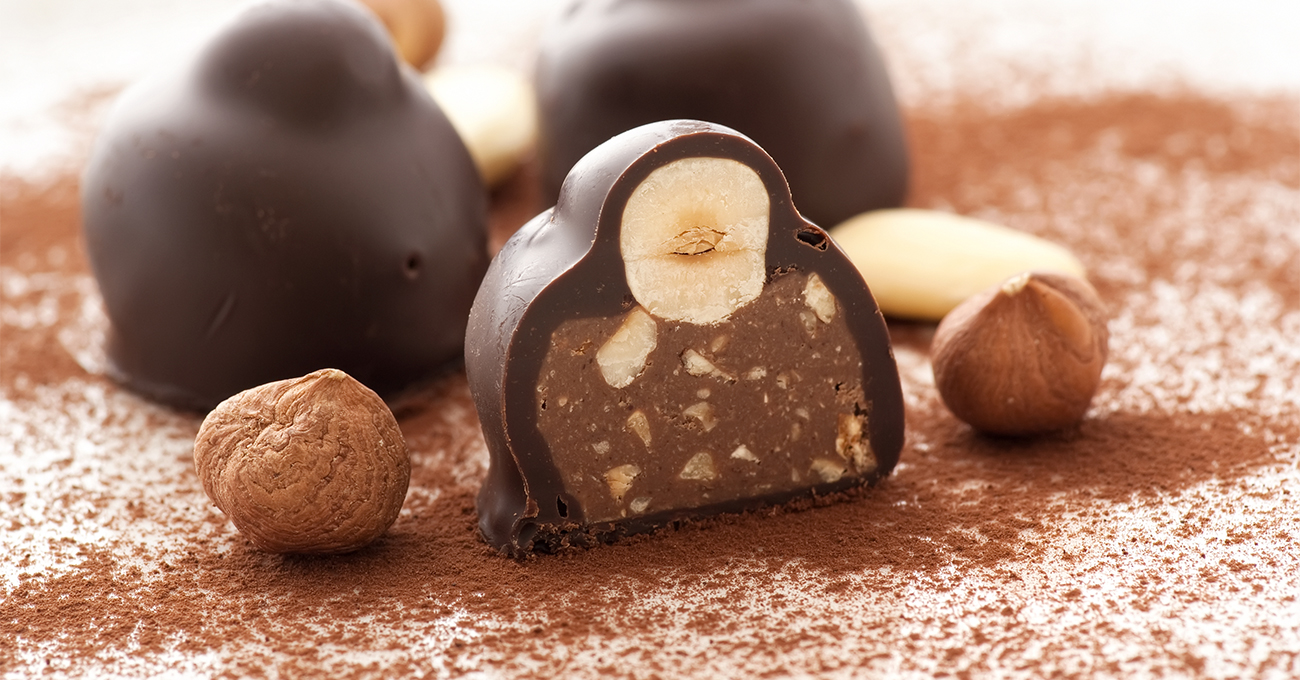 Because Consumers are Nuts for Inclusions and Add Ins
You know that nuts in confectionery fillings are a challenge, but what can you do to overcome that challenge? Inclusion of nuts or a high content of cocoa butter is particularly popular among consumers. However, both these ingredients can lead to oil migration, causing the chocolate to lose its gloss and become dull, grey and unappealing. This is why maintaining a glossy appearance is top priority.
Bonus: Nuts can support a healthier perception among consumers.

Confectionery Solutions That Deliver the Variety Consumers Love
Flavor innovation and seasonal varieties drive consumer demand for irresistible confections, with 23% of chocolate buyers saying a new flavor drives their purchase.1 Seasonal offerings provide variety to drive increased purchase and consumption, and permissibility in the indulgence space.
Flavor innovation can mean a variety of things, from introducing a consumer to a completely new taste profile to introducing flavors that are popular in other categories to the chocolate space, such as other sweet indulgences, spicy offerings, and alcohol-inspired cordials.
Delivering this variety and innovation calls for solutions to technical confectionery challenges. Whether creamy or aerated fillings, nutty, fruity or spicy inclusions and more. At AAK, we know how to help you make your confectionery better—and without bloom or separation, for longer shelf life—no matter your goal.
Let's get started on co-developing your better-tasting confectionery product, today!

SOURCES
1Mintel, Chocolate Confectionery: Including Impact of Covid-19, US, May 2020